WORTLEY TOP FORGE MODEL ENGINEERS
5" GAUGE ISLE OF MAN BEYER PEACOCK 2-4-0 "PEVERIL"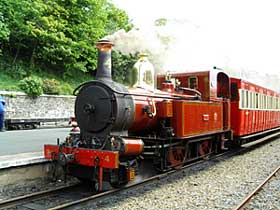 The Prototype
Locos with a wheel arrangement of 2-4-0 were very popular in the Isle of Man. TheIsle of Man Railway favoured locos built by Beyer Peacock's locos. No 6, 'Peveril' is one of those built in 1874. The Beyer Peacock characteristics are all there - the outside framed bogie, the lack of a bunker behind the cab and the angled cylinders. Like most of them, 'Peveril' has its number in brass numerals on the chimney. She was withdrawn from service in 1960 and was stored for several years together with No. 5 "Mona" in Douglas carriage shed. She was cosmetically restored by members of the Isle Of Man Steam Railway Supporters' Association in 1994 and is now resident in the railway museum at Port Erin carrying the Indian red livery of the post-war years.
The Model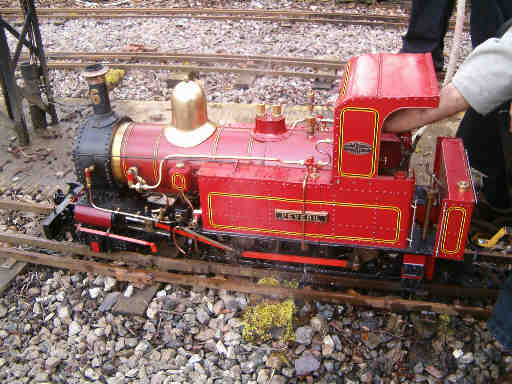 The origins and history of this particular 5" gauge model are a little vague. Its current owner, one of our members, inherited the loco from another group in Yorkshire and they, in turn, had obtained it from a collector of fairground and amusment arcade enthusiasts.
Another of our members volunteered to undertake the necessary restoration work which, in summary, consisted of:
Details awaited
This is a most unusual model and one which performs as well as it looks.