WORTLEY TOP FORGE MODEL ENGINEERS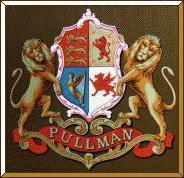 "Rebecca " A 1/8th Scale S.R. Pullman Car

Background
My passion for trains and railways - green Southern Electrics and Pullman cars especially - was born from a very early age when I was taken by my father to Brighton Station to meet "Uncle Mick". Mick Kilmurray was actually my great-uncle who, as a lad, joined the London, Brighton & South Coast Railway and cleaned, fired and eventually drove his way up to the top link on BR's Southern Region. This seems to have been no chance meeting, for on this particular day in the early 1950's, Uncle Mick was driving the all-electric Pullman "Brighton Belle" and I remember to this day being lifted by my father to look out of the driver's cab window - a memory which has inspired me some fifty years later to build a large-scale model of one of the luxurious SR Pullman Cars. So why "Rebecca"? It's not even a name borne by any of the cars associated with the EMUs of the Southern! All will be revealed later!
THE PROTOTYPE
As part of the 1932-3 Brighton mainline electrification, the Southern Railway introduced a series of electric multiple unit trains (EMUs) each containing a Pullman car. Built for the Pullman Car Company by Metropolitan-Cammell, the prototype for "Rebecca" was a 1st Class Kitchen car, six of which were used in the make-up of the three 5-BEL "Brighton Belle" EMUs. These cars were 68' 8¾" in length and contained a full kitchen, pantry, toilet, two saloons seating 8 diners in each, and a coupé seating four. Each car was mounted on 3'6" wheels on 8' wheelbase bogies. Empire timbers with glorious marquetry pictures were used on the interior - each car being finished uniquely. Carpets and upholstery, (on luxurious individual armchairs), were again unique to each car and were obtained from highly reputable and famous suppliers. All-electric appliances were used to equip the kitchens supplied with 100v current derived from a 20kW dynamotor mounted on the underframes. All the cars were equipped with self-contained heavy buffers, couplings and inter-car corridor connections.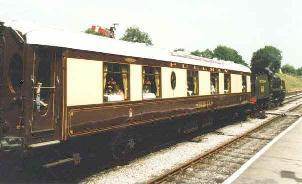 Pullman Car "Bertha" on the Bluebell Railway
OBJECTIVES
The main objective of the project was to win a bet! Having completed a 7¼" gauge 2-BIL Southern EMU with fully detailed interior, one of our members at Wortley Top Forge MES threw down the gauntlet. "I bet you couldn't build a Pullman Car with all the working table lamps and fittings"! That was enough to set me off! So I decided not just to tackle the Pullman in its own right, but to ensure that when complete it could form the centre car of a fictitious "3-BIL/PUL" set - after all, the Southern did run six car EMUs with 5 green coaches and a Pullman Car in the middle didn't they? And anyway, there was no way I was going to built a full rake of 5 or 6 of the things!
DRAWINGS and SOURCE INFORMATION Drawings at a scale of 10mm:1ft for the project were obtained from the famous Skinley Drawings range. A conversion chart was then devised which provided all necessary measurements up to 10ft in the three scales of 12":1ft, 10mm:1ft and 1.5":1ft. Numerous photographs and articles on the prototype were already to hand from my own collection of Southern text books. I had already built a full five-car Brighton Belle EMU set from scratch to 1:76 scale (4mm scale) and predominantly from plastic card, so source data was not a problem! Tackling a coach which would measure nearly 9' in length was, however, a different proposition!