WORTLEY TOP FORGE MODEL ENGINEERS
THE UNDERFRAME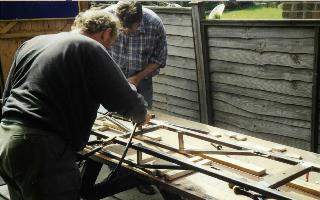 The underframes were made from box section mild steel and welded up by a friend using an old door as a means of holding the various steel parts together and in line. They were then thoroughly cleaned up and painted using Hammerite black. Holes were drilled in the underframes and the inside of the coach bodies, and the two parts united with heavy duty nuts and bolts. Brackets were made from steel and bolted on the underframe before footboards made from 2x1 timber was bolted in place. Although these look atypical, passengers who are sitting on the roof and need somewhere to put their feet look even less typical!!
BOGIES As with many SR Electric Multiple Units, different size bogies were used where the motors were slung. On the 2-BIL, the outer bogies of the unit were 8'9" wheelbase, while the inner pair of bogies were standard 8'0" SR bogies. Wheels were cast and turned by fellow society members to a scale 3'6" diameter, (5.25"). The bogies follow Wortley's latest standard design employing cast axleboxes (another member!), plenty of springing, and steel bar. To date we have had lots of success with the simple design of these bogies. The bogies are located via upright pins on the central stretcher into the steel sub-frame of the coach body. Suitable rubbing plates are provided, and fore-and-aft movement in the bogie assembly is achieved by springs to overcome lumps and bumps in the track! Lateral movement is provided by the bogie side springing.
TRACTION EQUIPMENT and BRAKING Drive is from 2x24v Parkside electronics motors via chain drive to the leading axle on each of the two bogies on the Motor Brake 2nd coach. Wheels are 5.25" diameter on two axles on a wheelbase of 13.25". The train is required to pull up to eight adults, and have a top speed of around 8mph. The pinion gear on the motor shafts directly drives a 66 tooth spur gear giving a ratio of 5.5:1, but I chose to use chain drive. The power source is two 12v car batteies mounted in the guards compartment. A Parkside Electronics 12v 100Amp Drive unit, complete with controller (with dynamic braking) and 80amp circuit breaker was mounted close by with a plug-in hand controller for speed and direction. This worked superbly, but following the South Yorkshire floods of 2007, the insurance cover for all of our damaged elecrtonic units to be replaced with a bulk buy from 4QD. I remember seeing a real 2-BIL with flood waters lapping at its solebars at Lewes in the 1960's, but not one which was fully submerged like my model!!!
PAINTING After several coats of undercoat, the gloss top coats of British Railways dark green were applied, with each coat being rubbed down well. Mason's commercial transport paints were obtained from a contact in the trade and are superb. Transfers were a mixture of waterslide, (the BR lion and wheel crest), and stick-on, (all numbers and lettering) before several coats of varnish were applied.
INTERIOR As mentioned earlier, a fully detailed and illuminated interior was desired. All wood surfaces were thoroughly sanded down and several coats of dark stain and gloss varnish applied. Seats were made from scrap ply and then upholstered in burgundy patterned fabric in the second class, and dark blue (complete with arm-rests), in the first. Each wall had a rectangle of mirror card glued in place, but real problems were envisaged with those traditional advertising landscapes and advertisements so typical of all carriages until more recent times.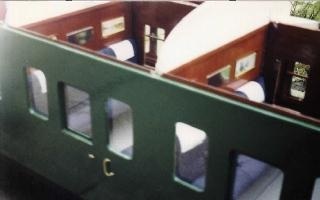 As if by magic, while I mused on the problem, a book entitled "Landscapes Under the Luggage Rack" was published at this time. This contained numerous examples of this oft-ignored art form, and with the aid of a scanner and the PC, every rule in the copyright law was broken as beautiful miniature reproductions of the real thing were produced and glued in place. A 12v light bulb in each compartment, in the corridors and behind the route indicator panel(s) completed the interiors.
Wooden dowelling, suitably stained and varnished was glued in place along the appropriate windows of the corridor side as handrails.
CONCLUSION The completed two-coach unit runs at Wortley Top Forge miniature railway and has given a notably comfortable ride. Pulling power is excellent although the top speed is perhaps a bit too slow at times. The unit looks particularly impressive at dusk as it 'hums' around the track beside the river with all the lights aglow!