The building of

- A class EM1 electric locomotive in 5" Gauge
Why a 'Woodhead Electric'?
Apart from the obvious attraction of recreating in miniature one of the more unusual yet attractive electric locomotives of British Railways, (ex-LNER), why would a dyed-in-the-wool Southern fanatic suddenly turn his attention to a loco which operated over 200 miles north of Southern Region territory? Having relocated from Surrey to the wilds of Yorkshire in 1976, our new home turned out to be within 100 yards of the ex-GCR Woodhead line at Oxspring, and the EM1 electrics (TOPS Class 76) were the main motive power on the majority of trains to and from Sheffield and Manchester. In addition, the line - and the electrics - ran very close to Wortley Top Forge where I discovered model engineering a few years ago. It was therefore an easy decision on what prototype to tackle as an initial foray into the world of 5" gauge modelling, having completed three Southern models for 7¼" gauge.
The Prototype
The prototype EM1 built by the LNER , number 6701, was completed in 1941 at Doncaster works, but was quickly placed in storage until the end of the Second World War. It was then sent overseas to Holland where the massive railway rebuilding programme had resulted in the adoption of electrification at 1500 volts d.c. The LNER agreed to lend No 6701 to the Dutch railways in 1947 to assist with their loco shortage, but also to provide much needed testing results, a 1500v d.c. line not being readily available in this country. On arrival in Holland, No. 6701, (now re-numbered as 6000), was nicknamed 'Tommy', and was put to work on heavy freight trains as well as passenger duties. Constant feedback to the UK enabled the LNER design team and engineers to improve the design. In 1952 No. 6000 returned to England and received her BR number of 26000. In a ceremony at Liverpool Street station she was officially named 'TOMMY' in recognition of her overseas exploits. Underneath the name was a plaque stating 'So named by drivers of the Netherland State Railways to whom this locomotive was loaned 1947-1952'. 'TOMMY' worked the Woodhead route for a number of years, but being non-standard, she was withdrawn in April, 1970 and eventually cut up at Crewe in October, 1972.
The Production EM1's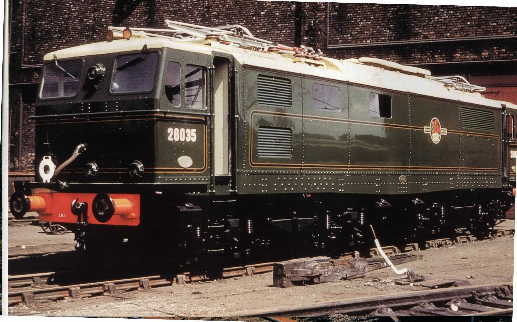 Based on the results of the work in Holland by 'TOMMY', the production of EM1's began in earnest. Soon the shiny black electric locomotives were being turned out from Gorton works at a rate of three a month before being taken south to Ilford (Essex) for 'running in'. They soon delivered constant, heavy and extremely reliable service on all parts of the Manchester-Sheffield-Wath 1500v d.c. system. From 1968 to 1970 many of the class were equipped for multiple working and fitted with dual brakes, indicated by the extra cables hanging from the front of the locomotive. In 1975-7 another group was converted, but this time the vacuum brake was removed. In their latter years, the EM1's concentrated on merry-go-round train workings to and from the large marshalling yards at Wath and Tinsley (Sheffield). When the Woodhead route was closed in 1981 the class became redundant, and all locos were withdrawn. One cab of 26048 is on display at the Greater Manchester Museum of Science and Industry, and a few relics are also on show at the Barrow Hill roundhouse at Stavely near Chesterfield. A complete example, No 26020, in original lined BR Black livery, is on display at the National Railway Museum in York.