July 2018
As discussed at the AGM we arranged a Members Running Day and BBQ on Friday 20th July and after the long spell of warm weather we gritted our teeth and crossed our fingers that the forecast rain would not spoil the day.We had a few spots of rain but not enough to dampen the enthusiasm.
The event was supported by members and their families and we had 5 steam locos, one battery powered loco, a steam car and 2 traction engines running from around 1:30 until 6:30. the BBQ was lit and we all ate our hot food as and when we were hungry.
All commented what a relaxing day it was and how much they had enjoyed it. Members arrived at different times and we finally packed up at 7:45 in the evening. Below a couple of pictures taken late afternoon while drivers took a breather and a cuppa.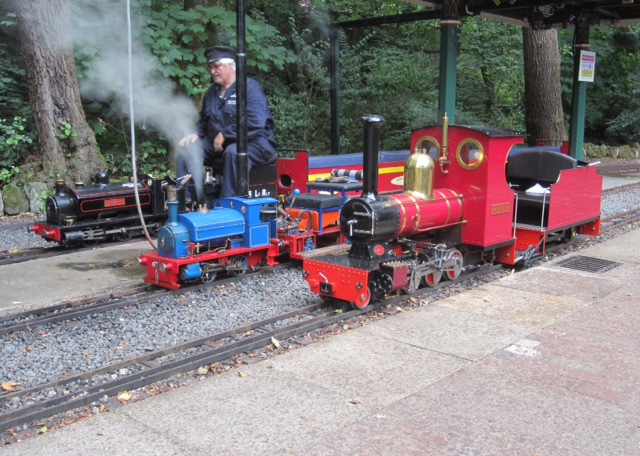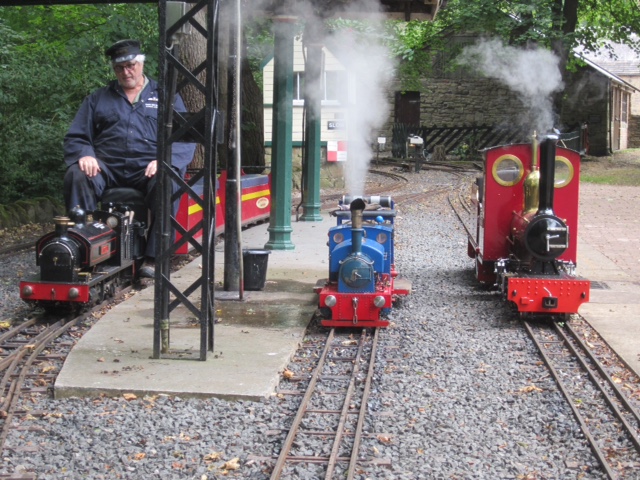 April 2018
The weather is still variable, to say the least. However, work continues on various tasks around the site.
Permanent Way and Infrastructure :
Trevor re-aligned the track on the upper loop.
Steve completed new pointwork at Forge Halt and the Headshunt.
Chris and Don made repairs to the automatic signalling from the tunnel and have made the switch operation more robust.
Steve, who only recently joined us, has repaired rotting woodwork on the signalbox and already put the first coat of paint externally and internally. Further coats of paint will complete this task in early May making the appearance and protection against the elements effective.
Chris, Dave and Jonathan have completed a hardstanding adjacent to the loading/unloading ramp. This will enable trailers to safely load and unload locos and rolling stock. It is coloquially known as the helipad !
Keith has made new Finials for the carriage shed and once the paint has dried will be fixed at either end of the carriage shed.
The final phase of the Block Paving has been completed with 'The Last One' being laid by the team on 2nd May. Well done to All who helped on this big task, a real improvement to our fairway between the Platforms and the Clubhouse and side path.